A place of incomparable serenity
Calm and serenity ... a haven of peace located in the heart of the forest of Pic Saint Loup in a private park of 8 hectares, the Mas enjoys a privileged location between the Mediterranean, Mont Aigoual and is close to Montpellier.
Whatever the purpose of your stay, you will be seduced by the tranquility and authenticity of the place, conducive to calm and relaxation. And you will let your mind wander at your own pace to discover this particularly unusual and endearing world: the scrubland.

You are in the right place to let go and enjoy the moment.

Mas de la Draille is our family home. To open the doors of the Mas to our guests is to offer them a chance to share our paradise. We welcome them with simplicity, warmth and conviviality so that they feel, from their first arrival, "at home".
Bed and Breakfast
Our Mas, built in a contemporary style, is comfortable and spacious, with 430 m2 accessible from the ground floor, with large rooms that are authentic and warm.

A large sports hall with bathroom and adjoining toilet is available for sports.

We offer shaded parking and free wifi.

Our guests are looking for calm, silence and tranquility. There is no TV in the guest rooms.

For fans, a TV is available in the family room. Although they are welcome, our space is not suitable for children.
The guest rooms are large and bright, with views and direct access to the terrace and the surrounding nature.

Their warm and original decor will welcome you in a chic and relaxed atmosphere where luxury is nested in small details and simplicity.
Very calm, you will be gently rocked awake in the leisurely morning by the chirping of birds in the spring.

A library with a large selection of books allows the luxury of reading in the shade of oak trees.
An "Honesty Bar" in the entrance of the house allows you to quench your thirst at any time.

To note :

A gourmet breakfast is included in the service.
The rooms are available in the afternoon at 4:00 pm and are to be released at the latest in the morning at 11:00 am.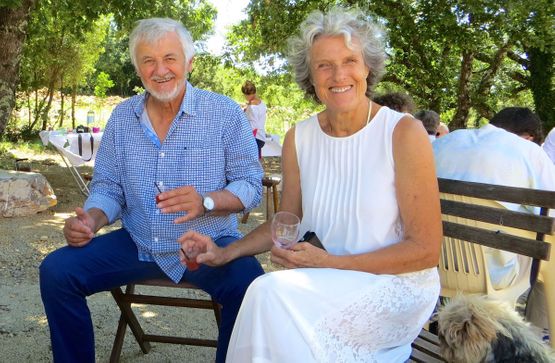 Your hosts



Frances was born in South Africa, near Cape Town, surrounded by vineyards in a region that looks like our "scrubland".
Of course, she is fluent in English and also speaks "Afrikaans", her mother tongue.

Pierre was born a few kilometers from the farmhouse, in a vineyard in the scrubland. For English, by making a big effort, it is almost understandable. Fortunately, Frances is never far away ... on the other hand, he does speak to his horses.